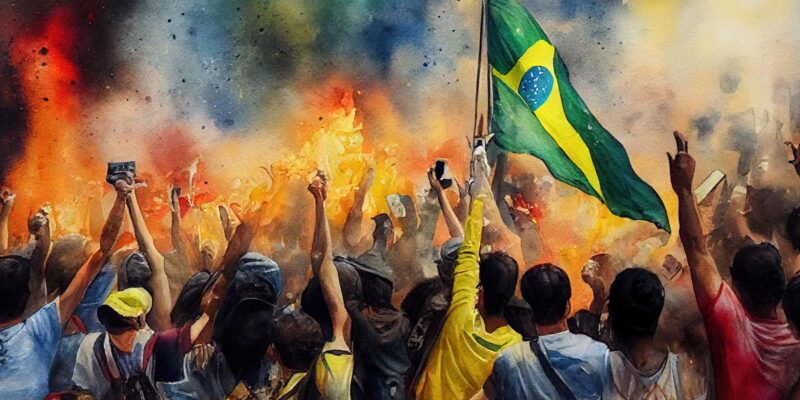 In recent years, it has become popular in parts of conservative discourse to discuss the "Brazilianization of America," a reference to the challenges a large country faces in governing an increasingly multicultural "universal nation." But this weekend, it was the Americanization of Brazilian politics that took center stage as pro-Bolsonaro forces rose up in aggressive protest against the newly inaugurated Lula regime, in a move reminiscent of what played out in Washington on January 6, 2021. The similar challenges facing America and Brazil, including concerns about the state of their democracies, is worthy of exploration, as is the global response to the protest and what that response means for those opposed to the current "neoliberal" international order.
At a time of concerns regarding covid, the policy ambitions of globalist institutions like the World Economic Forum, and the consequences of decades of America-led military involvement (and the immigration waves it inspires), there has been growing coordination between various right-wing political movements around the globe. The result in America has been increased fascination with countries like Victor Orban's Hungary, right-wing celebrations over the success of Italy's Giorgia Meloni, and skepticism of figures celebrated on the international stage, like Ukraine's Volodymyr Zelensky.
Perhaps the American Right has no more direct parallel than the Bolsonaro faction in Brazil.
These similarities are not simply intellectual in nature. Jair Bolsonaro and his sons have become established figures at American conservative events such as the Conservative Political Action Conference (CPAC) and were considered some of the strongest international allies Donald Trump had as president. Olavo de Carvalho, who was referred to in the United States as the "Rush Limbaugh of Brazil" prior to his death last year, was an influential popular philosopher for the Brazilian Right who shared intellectual curiosities (and dinners) with former Trump strategist Steve Bannon. And Gettr, one of the Twitter alternatives favored by the MAGA crowd before Elon Musk's purchase of Twitter, has even invested in Brazil as a market of particular focus.
Brazil's 2022 presidential election offered yet another commonality: the controversial election of a corrupt leftist politician following a political campaign marked by heavy, one-sided political censorship.
The recent release of the Twitter Files confirmed what was long obvious: America's 2020 election was manipulated by a deliberate campaign to hide factual information detrimental to the campaign of Joe Biden. Twitter and other Big Tech companies acted in explicit coordination directed by Joe Biden's campaign and DC bureaucracies. This possibly influenced the political behavior of voters even before additional concerns about the constitutionality of covid-inspired election law changes, the security of nontraditional voting methods, and general fears about the integrity of voting machines.
In Brazil, the 2022 election was shaped by more explicit and obvious political manipulation. While Bolsonaro, like Trump, had the power of presidential incumbency at the time of the election, Brazilian politics had become shaped by the tension between the elected executive office and the nation's supreme court, which was dominated by political rivals.
It was the court that vacated previous president Luiz Inácio Lula da Silva's corruption conviction, allowing him  to run for office. Additionally, in 2019, the Brazilian supreme court granted itself the authority to police "disinformation." As the New York Times noted last September,
[Supreme Federal Court justice Alexandre de] Moraes has jailed five people without a trial for posts on social media that he said attacked Brazil's institutions. He has also ordered social networks to remove thousands of posts and videos with little room for appeal. And this year, 10 of the court's 11 justices sentenced a congressman to nearly nine years in prison for making what they said were threats against them in a livestream.
The power grab by the nation's highest court, legal experts say, has undermined a key democratic institution in Latin America's biggest country as voters prepare to pick a president on Oct. 2. Luiz Inácio Lula da Silva, a leftist former president, has led Mr. Bolsonaro in polls for months, while Mr. Bolsonaro has been telling the country, without any evidence, that his rivals are trying to rig the vote. In many cases, Mr. Moraes has acted unilaterally, emboldened by new powers the court granted itself in 2019 that allow it to, in effect, act as an investigator, prosecutor and judge all at once in some cases.
These Supreme Court–led challenges escalated after Bolsonaro and his party vastly exceeded polling expectations in the first round of the presidential election. In order to compensate for an environment of extreme political censorship, creative Bolsonaro-supporting businesses began to promote sales by emphasizing Bolsonaro's green and yellow party colors and his number, 22.
The justification for these breaks from political norms is familiar to any Trump supporter: they were necessary to combat "misinformation" and the extreme "threat to democracy" that the "fascist" Bolsonaro represented. The result was the same, a close defeat for the Brazilian Right and a collapse in confidence in the nation's political institutions.
This loss of perceived legitimacy has created an environment in which many view the results of the election as explicitly rigged by bad actors who desire political control. Given the abuses of power documented prior to the election, anyone who categorically rules out all concerns regarding the security of the election is engaging in a reflexive defense of the political status quo, not high-minded critical thought. This does not mean that every criticism of the election process is valid, but concerns about the integrity of elections should be taken seriously if one wants to avoid violence. Brasília, like Washington, failed to do so. The result is Brazil got its own native-dressed shaman.
These concerns, however, are secondary to the clear illiberal nature of the 2022 Brazilian election. If democratic legitimacy is based on the consent of an informed public, America's 2020 and Brazil's 2022 elections cannot be considered legitimate. They were clearly manipulated by political agents to achieve specific desired political ends.
The notion that "democracy" is only sacred when it produces the results elites want is nothing new to the Mises Wire. Still, it is worth noting the international response to Brazil's election and this weekend's protest as illustrative of the challenges faced by those who desire true national self-determination.
The election of Lula was quickly celebrated by global leaders last October. At a time when global tensions have created new divisions between leaders around the world, the defeat of Bolsonaro was a rare unifying moment of 2022. European leaders hated Bolsonaro's Trumpian style and his rejection of environmental hysterics. Lula actively campaigned on his relationship with China's Xi Jinping, a pivot from Bolsonaro's America-forward preference. To the Biden State Department, the integrity of Brazil's election was a perfect proxy war for the administration's own lingering domestic clash with Trump and his supporters.
America's shift is a key international development shaped by the change in Washington's administration. A Trump-led White House may have had an interest in assisting Bolsonaro's political faction. Instead, Washington officials openly cheered the election of the sort of corrupt socialist leader backed by some of Brazil's most violent criminals.
This weekend's unorganized rebellion has only further distanced the pro-Bolsonaro factions from international support.
The international disinterest in the plights of political opponents victimized by systemic censorship and the undermining of democratic norms creates real political problems for those seeking to oppose the global order's prevailing ideology.
While there are plenty of historical examples of South American military coups against leftist nominally elected governments, the reality is that a successful reactionary movement would quickly find itself treated as a pariah state globally. As the Russian invasion of Ukraine has highlighted, some of the most powerful weaponry of the neoliberal order is economic. One can imagine the sanctions that would follow a modern right-wing coup that threatened the policy aims of Washington or Davos.
Too many on the American Right mistakenly clung to the belief that "white hats" in the deep state would save them from a class of elites that despises them. It seems that too many in Brazil placed similar faith in the nation's military and were also betrayed. More troubling are the real fears that this weekend's events will justify political crackdowns on opponents, as January 6 did in the United States. American Democrats are proposing extraditing Bolsonaro, who is currently visiting Florida, to Brazil, where he would potentially face charges from his political rival.
Going forward, the Brazilian Right—like its American counterpart—needs to rally behind serious political leaders. Institutions like Mises Brasil and Instituto Rothbard have helped raise a generation of Brazilians equipped with a serious understanding of the dangerous economic and political trends we find ourselves in the midst of.
To take on the neoliberal order, we need a global network of successful, like-minded individuals dedicated to creating a freer world—not the distractions of high–time preference tantrums that do not offer tangible plans for success.
We win with a focus on the long term, not the short run.
We win by building better elites and better institutions.
We win by going out unapologetically and forcefully into the world.