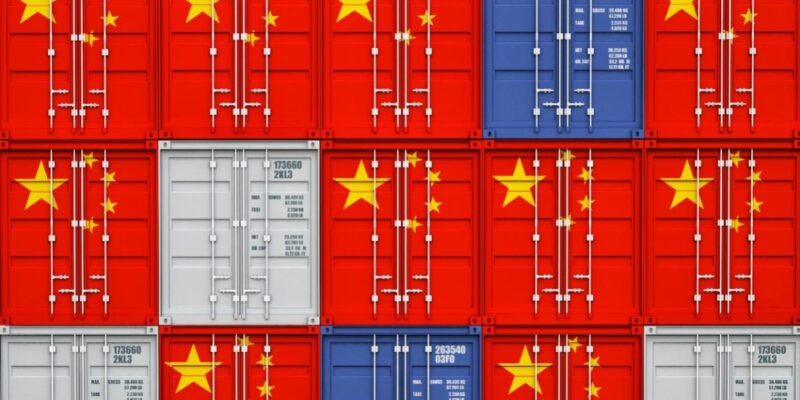 China has become a global leader in the electric vehicles (EVs) sector, and Western governments are worried that its comparative advantage will become entrenched. Once again, mainstream pundits blame China's success on government subsidies and unfair competition. This is just a pretext to argue for more government support in a sector which, from the very beginning, has not been driven by genuine consumer demand but by a political green agenda.
China Leads in the Global EV Race
About a decade after overtaking the US automotive market, China has become the world's largest EV market and producer. According to analyst forecasts, domestic EV sales are expected to surge to about eight to ten million cars in 2023, up from record sales of 6.5 million in 2022. This exceeds by far sales of nearly three million electric cars in Europe and two million in the US. At a global level, seven out of every ten electric cars are sold in China, which also boasts one of the highest market shares of EVs in total car sales. In the first half of 2022, EV sales accounted for 21 percent of total car sales in China, compared to 18 percent in Europe and 6.5 percent in the US. It is estimated that about half of all cars sold in China would be EVs by the end of 2025.
Graph 1: EV sales and percent growth for 2022 H1 versus 2021 H1
The winners of the domestic EV boom are fast-growing Chinese carmakers that accounted for more than 80 percent of domestic EV sales in 2022, whereas a decade ago foreigners occupied 70 percent of the market. Among the top fifteen EV producers in China, only four can be considered to have foreign ownership today. In global markets, BYD, the Warren Buffett–backed local EV star, has outsold Tesla, forcing Tesla to slash prices by around 20 percent this year to stay competitive.
Graph 2: Global EV sales by car group for 2022 H1
Prospects look good for BYD which expects to sell three million plug-in vehicles in 2023 after selling more than 1.85 million last year. A dozen other Chinese EV manufacturers have outperformed global automakers domestically and are targeting international markets now, Europe in particular. Unlike internal combustion engines (ICs), the Chinese electric cars enjoy both affordable prices and good quality. They are also eligible for high purchasing subsidies in Europe where tariffs are relatively low and local producers are focused on making higher-margin IC cars before they are phased out in 2035.
Most importantly, China's EV sector has become increasingly innovative and capable of domestic technological advances. The EV technology originated primarily in the West, and initially the Chinese government pushed a few state-owned enterprises into joint ventures with foreign producers to kickstart domestic production. Private independent producers gradually entered the market and around three hundred EV producers emerged while several of them leapfrogged established carmakers. The Chinese companies can now produce technologically advanced EVs which are also safe and reliable. Technology flows seem to have reversed within joint ventures during the last decade. Many foreign producers such as Volkswagen, Mercedes-Benz, and BMW are teaming up with Chinese partners to draw on their superior know-how in batteries, battery swapping, automotive software solutions, and autonomous driving. They are also channeling significant investments into local R and D centers in order to tap into China's innovation ecosystem.
Graph 3: German carmakers increase R and D activities in China
Chinese carmakers plan to absorb large parts of global value chains, capitalizing on their leadership in the production of key EV components such as batteries and smart car technologies. They have set up R and D and design centers in Europe and are planning to open production sites for both cars and batteries. Batteries are the most valuable part of EVs, accounting for 35 to 50 percent of its value. China has caught up technologically with the world's leading producers Panasonic, Samsung, and LG in an industry that has undergone immense technological change in the last three decades.
Today six out of the ten largest global battery producers are Chinese with about 60 percent of the global market share, with CATL (37 percent) and the carmaker BYD (13.6 percent) in the lead. Internet and tech giants like Baidu, Alibaba, and Xiaomi have also entered the EV market bringing digital solutions and almost halving the car development cycles to two to three years. Supported by them, the Chinese EV carmakers have converted cars into smart devices on wheels, catering to the specific taste of Chinese consumers.
What Is Driving China's EV Success?
Most analysts concur that the Chinese EV sector would not exist at all without substantial government support. In only a decade, the EV sector took off helped by central and local governments. Some measures stimulated car demand (purchasing subsidies, favorable tax treatment, and tightening of emissions standards), while others targeted supply (R and D subsidies to producers, public procurement, mandatory joint ventures for foreign carmakers, and import tariffs).
But few analysts admit that the industrial policy 101 approach yielded suboptimal results despite its huge fiscal cost. The Chinese government spent about $60 billion between 2009 and 2017 to jumpstart the car sector. Almost $37 billion went toward consumer subsidies, representing a whopping 25 percent of total EV sales over the period. Although EV firms mushroomed to more than three hundred, only about 15 percent of them were actually manufacturing high-quality cars. The majority could not reach the production stage and probably entered the market mostly to benefit from generous subsidies. Ironically, independent producers, such as BYD, Geely, Chery, Xiaopeng, and NIO, emerged as the most successful EV carmakers and not the pampered state-owned enterprises.
In 2016 Beijing changed course and moved away from the subsidies regime to a more market-based one in order to stimulate competition. Direct price subsidies were phased out and the government support shifted to building charging infrastructure. Beijing introduced a credit-based mechanism, similar to the carbon market, which allows carmakers to sell surplus EV credits to other companies. This is also how Tesla managed to turn profitable in 2020–21. But the most important step was to allow foreign EV manufacturers to enter the market with wholly owned enterprises. The entrance of Tesla has been a game changer for the industry because it pushed the Chinese manufacturers to design EVs with smart driving features from scratch.
In the same way China's massive subsidies were not the recipe of its EV success, the West is not a newcomer to the interventionist game. Western governments' support to EV producers in terms of loans, grants, tax rebates, and generous consumer subsidies has been as comprehensive as China's. They even went further by setting targets for phasing out IC cars. The only difference is the scale of government funding which set China apart.
But instead of realizing that China's oversized intervention was flawed, Western pundits regard the EV race as a "proxy war between the West and China" which calls for more government support. The US government announced a China-like $174 billion program to accelerate the transition to EVs, part of its gigantic Inflation Reduction Act. In turn, the European Union fears that the US subsidies will lure away green tech from Europe, and Europe plans to respond by beefing up its own generous green subsidies and relaxing state-aid rules. This threatens to unleash a green subsidies war across the Atlantic.
Conclusion
It is hypocritical to blame the current splurge of subsidies to the EV sector on China. The West has driven the green global agenda, and the development of the electric car sector is not hampered by unfair competition from China but by insufficient market demand for EVs. For a vast majority of consumers (more than 90 percent in the US), electric cars remain less attractive than traditional cars, not least because of their high prices and other practical inconveniences.
This is also why established Western carmakers are still focused on producing more profitable traditional cars despite the governmental push for a green agenda. And make no mistake, even in the emerging green EV sector artificially revved up by government decree, the global winners will not be determined by generous subsidies but by unhampered market competition.