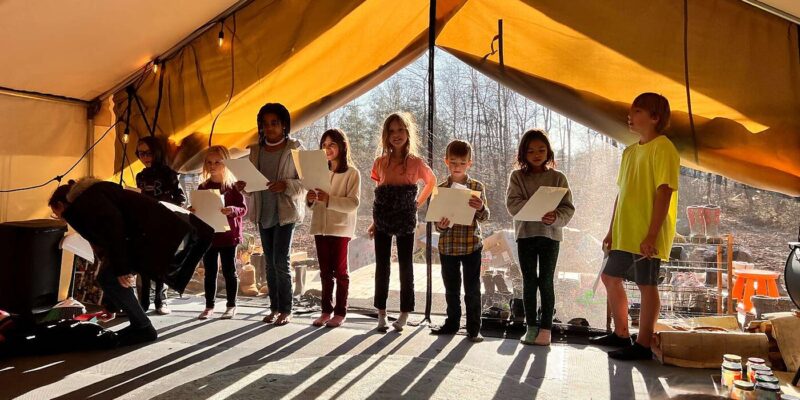 Bramblewood Learning Community founder Danika Dunn says her oldest son didn't have a bad experience when he attended first grade in his local district. But it wasn't great. "School was fine, but I wanted something different," she explains. "I knew that there were ways to do it that were better and more interesting than what the public school was offering. Plus, I felt like I never saw my son. So we pulled him."
For the next few years, Danika says she bounced between Charlotte Mason education and unschooling. Then she heard about Acton Academy and loved the idea of project‐​based education. She started researching it, but most of what she found was tailored to public schools and other five‐​day‐​a‐​week programs. Danika experimented with ways to apply what she was learning to a homeschool or hybrid setting.
Located on her family farm, Bramblewood began in 2020 with 12 boys in grades fourth through sixth meeting once a week. "We started with just 1/2 day and we did it all outside because of the pandemic," Danika recalls. "It was intense and wild and crazy, but it was also awesome. We were finding ways that the structure worked and things that we loved about the project‐​based approach."
The next year, the program expanded to a one full day a week—and Danika made a point to set aside a certain number of spots for girls. Since she has five kids and the mom who was helping her also had multiple children, they opened additional classes for more age groups. Last year, it expanded again and became a two‐​day program.
For the upcoming school year, Bramblewood has 40 children signed up for the Tuesday–Wednesday program and an additional 20 coming for a separate Monday‐​only program. The expanded enrollment was enabled in part by a VELA Education Fund grant Danika received that she used to buy a large canvas tent for an outdoor classroom.
The two‐​day program has four levels, covering ages pre‑K through early high school. Student learning needs and abilities—not just age or grade level—determine placement in a specific level. Danika works with parents to determine the best fit for each child. Parents typically volunteer for a half day each week, which helps the program run more smoothly and gives parents greater insight into what their children are doing. The one‐​day option is geared more for younger kids in grades K–4 and operates as a drop‐​off program.
Students typically focus on independent core learning (math, language arts, etc.) during the first hour in the two‐​day program. They set goals with their parents and bring work from home for that time. During the morning meeting, the kids can connect with friends and go over the day's schedule. The rest of the morning may include workshops run by mentors (what Bramblewood calls teachers) or small‐​group work. After lunch and recess, the students often gather for Socratic‐​style discussions and then work on group projects. Sometimes different levels work together on larger projects.
This is the first year Bramblewood includes a high school program, so Danika has been collaborating with parents to see what will be covered at school and what will be covered at home. There won't be a high school math course, so parents will be responsible for ensuring their children complete math at home. But they expect to be able to meet the requirements for classes like English with the various projects throughout the year. And they're building a science course that will include lab work, which can be challenging (and less enjoyable) to do solely at home. Students will also receive some suggestions for things they can do at home to get enough hours to earn high school credits.
Danika is very enthusiastic about the project‐​based model and encourages others to try it. "We recently had a big meeting where we were talking about the future of Bramblewood because there is a lot of interest in it," she says. "We had to decide, are we going to try and make this bigger or are we going to keep it small? And we decided to keep it small. I don't know if we're going to keep doing the one‐​day program forever. Our goal would be to have somebody break off and make that a separate thing. I would love to help people who are interested in doing project‐​based co‐​ops. I think there's a lot of interest in it, but there's not a lot of literature out there for and by homeschoolers. It's such a great way to homeschool—it's natural, it's real world, it's passion based. It's also collaborative and can be very rigorous if done the right way."
The growth of microschools, hybrid schools, and homeschool co‐​ops around the country shows that many families are looking for different ways to educate their children. And education entrepreneurs like Danika are stepping up to provide those new options.