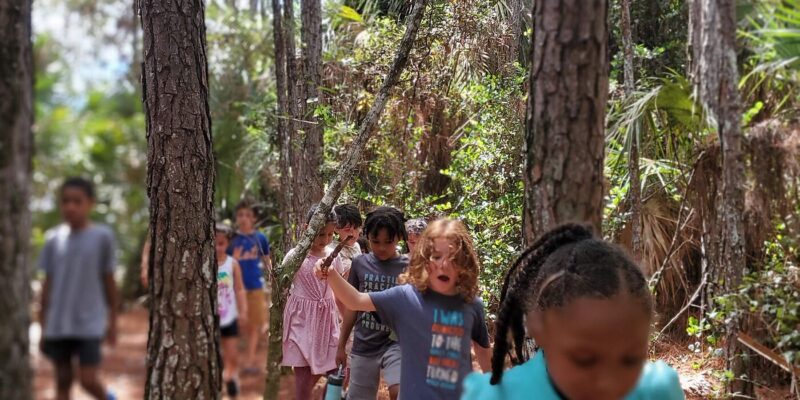 "I'm not happy in my position as an educator at a school, and my son's not happy going to school." When Iman Alleyne realized this, her next thought was "What can we do?" This question ultimately resulted in Kind Academy, a microschool in Coral Springs, Florida.
Iman had looked for a play‐​based preschool for her son without much success. "I chose the closest thing that I thought was play based," she recalls. "But even there, developmentally, there were moments where I saw things that just didn't make sense—like forcing three‐ and four‐​year olds to write three sentences before they could go play."
Similarly, she saw things she disagreed with at the school where she was working. She was particularly troubled by mandatory silent lunches and kids losing recess for misbehavior. To Iman, these were the kids who really needed recess for a chance to burn energy during the school day.
She pulled her son from his school at the end of the school year and began homeschooling him. "I started getting into the homeschooling groups, and I quickly recognized that this is the way education should be done. The kids were interested. The parents were engaged in their kids' learning. Everything was very passion based," says Iman.
Since she'd been conventionally trained, Iman was shocked by some of what she learned from the other homeschoolers. "They would tell me things like 'you can just do school for an hour a day, maybe 45 minutes for kindergarten.' My mind was blown by the things that these homeschoolers were doing," she says. But Iman's experiences were also beneficial to the homeschoolers, and some started asking her to help them plan their children's educational paths. Before too long, Kind Academy was born.
In creating Kind Academy, Iman incorporated the best parts of what she'd learned in her education career and from homeschoolers—and left out the parts she found objectionable. There's also a strong Montessori influence. Children are in mixed‐​age classrooms with a good degree of choice and freedom of movement throughout the day as they learn through discovery.
The school day generally starts with unstructured social time and then moves to a morning meeting where they discuss their goals for the day and what's happening that week. They also talk about the character trait they're focusing on that month. "We focused on assertiveness during the last month of school—learning how to speak up and how to ask for things, but in a way that is appropriate," Iman explains.
The students then shift to academics, with every student working through an individualized learning path. "In the beginning, they take a diagnostic so we see where they are. So no two kids are really doing the same thing. Even the curriculum might be different for different kids," says Iman. "We also put them in small groups where they'll do personalized learning—it might be a one‐​to‐​three or one‐​to‐​four ratio with kids who are doing similar things for math, writing, and reading."
After academics, they do project‐​based learning, which is usually an enrichment activity in things like nature, art, play, science, or stem. The children take a field trip nearly every day. They usually go to a nearby park, but they've also visited forests, wetlands, and a nature preserve. To wrap up the day after the field trip they have quiet time, which usually means reading, puzzles, or games.
To support parents and kids during COVID-19, Iman started offering virtual classes. "Probably within a week we went online. First we started teaching our circle time online, and then within about two weeks, we started sending out kits to everybody. We put all of our sensory, nature, art, play, math activities, and reading activities into a box, and we shipped it to parents or they came and picked it up," Iman says.
When she began offering classes on Outschool​.com, Iman says it took off. "We went global, where we had families coming in from all over the world and seeing what we did. We did a lot of our same classes that we were doing in person, but then we started doing a lot more for older kids. Middle school is where we exploded." At its peak, she had 3,000 kids from around the world taking Kind Academy classes during COVID-19.
Iman now offers Kind Online School as well as individual classes on Outschool. She's also started a "Launch Your Kind" program to help education entrepreneurs open their own Kind Academies. Through that, she offers support with curriculum, marketing, enrollment, payment systems, and more. She currently has 10 "baby" Kind Academies planning to open for the upcoming school year—seven in Florida and three in other states.
When asked what advice she has for others considering a similar path, Iman points to the three Ps: passion, purpose, and a plan. On the planning front, she says, "Try to find a way to make an income. A lot of people jump into it right away and don't have any sort of idea of how they're going to earn income. In Launch Your Kind, I always stress budgeting—going in there and understanding that it's going to cost money to do things."
Iman has a new Launch Your Kind cohort starting July 27, 2023, so it's a great time to check it out if you've been considering starting your own microschool.