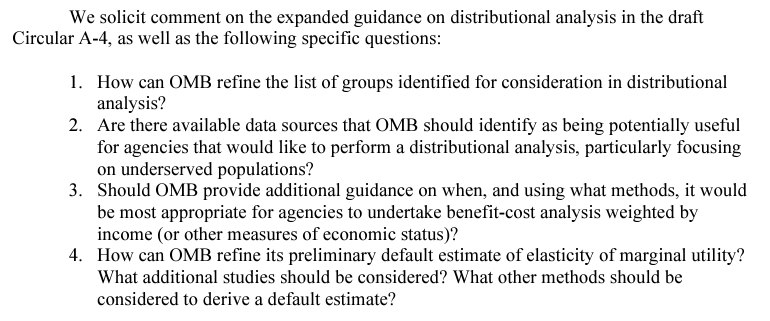 From Richard L. Revesz, Administrator, Office of Information and Regulatory Affairs via a Society for Benefit-Cost Analysis email blast:
I am excited to share with you that the Office of Information and Regulatory Affairs (OIRA) has released its proposed revisions to OMB Circular No. A-4: Regulatory Analysis. The preamble to the proposed revisions provides further information as to the nature of the proposed changes and identifies issues for which public comment may be particularly useful. The proposed Circular is available at https://www.whitehouse.gov/wp-content/uploads/2023/04/DraftCircularA-4.pdf, and the preamble to the proposed Circular is available at https://www.whitehouse.gov/wp-content/uploads/2023/04/DraftCircularA-4Preamble.pdf.
Circular A-4, which provides guidance to agencies on how to conduct regulatory analysis, has not been revised since it was first issued in 2003. The proposed revisions to the Circular reflect new developments in economic and other scientific understanding. Our goal in these proposed revisions is to help agencies produce analyses that facilitate better policymaking. To that end, the proposed revisions address a range of issues, including discount rates, distributional analysis, and accounting for uncertainty. Proposed revisions to material on discounting help ensure that the present value of future effects, and the relationship of capital and risk to discounting, are more accurately accounted for. Proposed revisions to the material on distributional analysis will help facilitate efforts by agencies that are seeking to account for the distributional effects of regulations. And proposed revisions to the section on uncertainty, such as moving away from a default assumption of risk neutrality, will help agencies to more accurately capture the value of regulations that reduce risk.
We invite public comment from April 7, 2023, to June 6, 2023, via http://www.regulations.gov. To submit a comment during that period of time, simply type "OMB-2022-0014" in the search box, click "Search," click "Comment," and follow the instructions for submitting comments. All comments received will be posted to http://www.regulations.gov, so commenters should not include information they do not wish to be posted (e.g., personal or confidential business information). Receiving input from a wide range of commenters, including experts reflecting an appropriate breadth of economic and scientific perspectives, will aid in this revision process, so OIRA welcomes your help in spreading awareness of this public comment period. OIRA is also requesting nomination of experts to serve as peer reviewers of the proposed Circular, sent to MBX.OMB.OIRA.A4PeerReview@omb.eop.gov, from April 7, 2023, to April 28, 2023.
As the preamble notes, public comments are helpful both when they note proposed revisions to the Circular that appropriately reflect the best available economics and science, and when they address places where further revisions to the Circular would be appropriate. I look forward to the opportunity to modernize the regulatory review process through the implementation of a revised Circular A-4, following public comment and peer review.
Finally, I wanted to note that our colleagues at OMB also released today proposed revisions to Circular A-94, which addresses the use of benefit-cost analysis in the context of federal grant funding. Those interested in providing public comment on Circular A-94 can do so at the docket OMB-2023-0011.
There are alot of potential changes including recommendations on distributional effects: 
Uncertainty:
And discount rates: