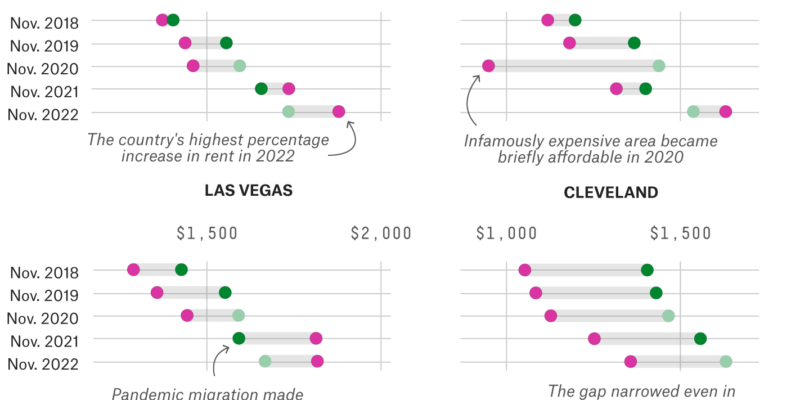 Rents Are Still Higher Than Before The Pandemic — And Assistance Programs Are Drying Up
Cleveland is one of the poorest cities in the country. It's far from the expensive coastal cities like New York City and San Francisco, where astronomically high rents are common. Cleveland doesn't fit the stereotype of a city people want to move to; in fact, it has been losing population since the 1950s. But since 2020, there have been some wild fluctuations in the rental market. Even in many cities that had previously been affordable, rents keep getting higher, stretching more families' budgets and spreading a largely coastal problem to nearly every part of the country.
Even as the pandemic moves into a maintenance phase, Cleveland families are still getting sick, still struggling financially and still seeking help to find affordable housing and to pay their rents, said Julie Wisneski, director of the housing stability program at the United Way of Greater Cleveland. 
Most of her organization's clients struggle to get by on low incomes, she said. When they can find places with rent that they can technically afford, those properties are usually in rough shape. "There's lead paint, there's broken windows, there's broken … stairs, there's plumbing issues," she said. For Wisneski's clients, being able to pay rent doesn't do much good if the apartment is not a safe place to live. "The lack of affordable housing is so bad in Cleveland right now," she said.
While rents for new leases measured by Zillow and other apartment listing sites finally began dropping nationwide at the end of 2022, the dip came only after a year of historic, nationwide rent increases throughout 2021. (The Consumer Price Index, which surveys a sample of landlords and renters and includes renewals, hasn't shown a drop yet.) The effects of the COVID-19 lockdowns, intercity moves made at the beginning of the work-from-home era and record-high inflation made the long-standing problem of increasing rents all the worse. Today, rents remain much higher in many cities than they were before the pandemic, even in some cities that had previously been more affordable. Now, with the economy poised on the edge of a recession, the programs established during the pandemic to help families afford housing are expiring. 
In the years leading up to the pandemic, rents steadily increased nationwide by an average of about 4 percent year-over-year, according to Zillow data of the 100 largest U.S. metropolitan areas going back to 2015.1 It is worth mentioning, though, that while Zillow's rent index is a frequently used metric for measuring changes in rent, data sets from apartment listing websites are not a perfect reflection of renters' on-the-ground experiences, and companies like Zillow aren't neutral observers of the rental market. Rent indexes by Zillow and others can differ greatly, largely because of rent inflation among new tenants instead of among renewing tenants, as described in this working paper by the U.S. Bureau of Labor Statistics. That being said, the broad trends captured by Zillow's index are mostly in line with other data sets.
At that pre-pandemic pace, rents had already been becoming more unaffordable for average families for decades. Then came COVID-19. At first, rents fell in many cities because people stayed home and delayed moves they might otherwise have made. But after the initial shocks wore off, mobility skyrocketed. People who'd delayed moves the previous year packed their bags, as did people who divorced or split from roommates they were sick of, young people who'd delayed leaving their parents' homes and people who left expensive cities to get more space for less money elsewhere.
The pandemic "greatly increased the importance of home," said Chris Herbert, managing director for the Joint Center for Housing Studies of Harvard University. "For everyone who was living, working, studying from home, and much of your social life was home, the value of having a place to gather was that much more important."
This trend hit some regions harder than others. Cities in the Mountain West, like Boise, Idaho, and Las Vegas, as well as those in the Sun Belt, like in Florida, saw huge rent spikes. Through summer 2021, rents in Boise and Las Vegas were roughly 20 percent to 26 percent higher than at the same points the previous year. Cape Coral, Florida, saw year-over-year rents swell 33 percent this past January, after months of climbing. And at the end of August 2021, Allentown, Pennsylvania, saw rent prices nearly 18 percent higher than 12 months earlier. Now some of these cities are seeing the biggest slowdowns in the rate of rent increases.
Florida has long been a popular state to move to, but that trend was amplified during the pandemic. In many cities in Florida, rents over the summer of 2021 increased by 20 to 30 percent over what they'd been at the same point in the previous year. 
The vacation-home market also boomed, pushing rents up in smaller resort communities, like Cape Cod, Massachusetts, and towns near ski resorts in Western states. Rents increased too much for low-wage workers and seasonal workers in those areas to afford.
But in cities like Cleveland, the rent increases swelled later. While they never reached the same heights as some of the biggest boom cities in 2021, their rises have lasted longer and are generally increasing less rapidly now. Toward the end of 2022, the year-over-year rent increases weren't as high as earlier in the year: Rents in Louisville, Kentucky, still increased by 11.2 percent in November 2022, compared with 12 months earlier — a modest 0.1 percent less than during the previous month. Year-over-year rents in November also increased by 10.6 percent in Kansas City, Missouri, which was 0.3 percent less than in October; and they increased by 8.3 percent in Cleveland, which was 0.7 percent less.
It makes sense that some of these cities are not seeing rents fall as quickly, said Rob Warnock, a senior research associate at Apartment List, an online marketplace for listing apartments. "It didn't experience the same dramatic run increases that like Florida did, and so now it's the last part of the country that people are looking toward when they feel like they can go somewhere and get a deal." 
The price increases in the indexes used by companies like Zillow and Apartment List are for new rental agreements, which means that the increases they capture hit new tenants harder. But they can impact existing tenants, too, by affecting their negotiating power with the current landlords or limiting their ability to move from a bad or unsuitable apartment, like the conditions Wisneski described.
These forces push the people struggling with very low-incomes into more and more marginal areas, said Josiah Quarles, the director of organizing and advocacy for the Northeast Ohio Coalition for the Homeless. Quarles works to organize tenant groups in Cleveland and says he's had to stop working in some buildings because he believes they're unsafe for tenants and his organizers. 
The rental data from Zillow doesn't capture such complexities, and it can make rents seem more affordable than they truly are.
Some of the trends now affecting Quarles's clients began during the housing crisis and the Great Recession, and then accelerated during the pandemic, he said. As he put it, investors would buy cheap housing stock in cities like Cleveland and rent it out at market rates without spending money on upkeep. "The large majority of the purchases on the east side of Cleveland are investor purchases," he said. "So we're seeing people … who are paying the same amount that they would have been paying five years ago for a place, except now the place is actually a condemned building." He added that significant investments were being made on higher-end rental units, which has left people searching for the few affordable places to go.
In some cities, prices are still 30 percent higher than they were before the pandemic, Warnock says.  "[That is] certainly not something your average, everyday person can just absorb."
If rents return to their pre-pandemic normal, we'll still be in a situation that's difficult for many families. In 2019, the percentage of renters who spent more than 30 percent of their income on rent and utilities — an "affordability" benchmark — was 46 percent, according to the Joint Center for Housing Studies of Harvard University. What's new is that a growing number of middle-income renters are struggling to afford their housing costs as well. Between 2014 and 2019, the share of middle-class renters (i.e., those with incomes between $30,000 and $74,999) whose housing costs were higher than that benchmark rose 4 percentage points, to 41 percent. 
But even as more people in more places are struggling … there's suddenly less support. Many of the COVID-19 relief programs have run out of money.
Some cities have tried to fill that gap. This past summer, the Cleveland City Council passed an ordinance that halts eviction proceedings if a tenant can come up with the full amount of back rent and any late fees by their court date. Voters in cities and states around the country passed rent stabilization ordinances, which prevent landlords from increasing rates more than a certain percentage on existing tenants. St. Petersburg, Florida, and some communities in Cape Cod and California are also trying to make it easier to build detached accessory dwelling units on existing properties, which could be rented out to single people or small families.
But those are piecemeal solutions to a fundamental problem that remains: There is not enough housing for people to live in, and it's gotten more unaffordable for a wider swath of Americans. A recession, if it happens, would hit renters even harder, and more families are stuck in the rental market while interest rates remain high. It's a big problem that's been brewing nationwide for decades, just more visible now.