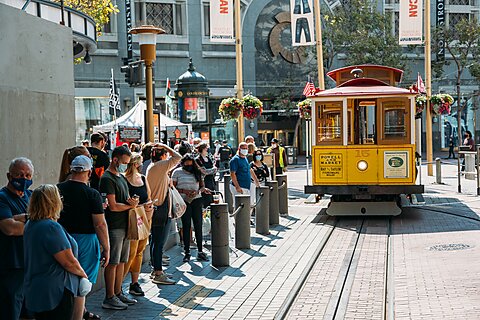 If you've visited San Francisco recently, you know that a ride on the city's famous cable cars is not cheap. The standard fare is $8 (regardless of distance) and an average trip is less than a mile and a half. I used to think that the city transit system, SF Muni, used the cable car to subsidize its bus and light rail services, but a deep dive into the numbers disabused me of this notion.
Despite the high fare, the cable car service loses copious amounts of money. It serves as a case study of how difficult it is to run a railroad profitably, especially when the operator is a government agency. Privatizing the cable car service is a better route to follow.
For the cable cars, the last full fiscal year of operation for which financial data are available was the year ending June 30, 2019. The system shut down between March 2020 and August 2021. We're still waiting for fiscal year 2023 numbers to come in, but, given the drop in San Francisco tourism, they are likely to be worse than FY 2019.
For FY 2019, the federal government's National Transit Database (NTD) shows that the San Francisco cable car system collected $24 million in revenues and incurred $70 million in operating costs, resulting in a reported operating loss of $46 million. The NTD figures overstate the system's performance because they do not include depreciation expenses.
The key driver of the cable car's unprofitability is the high cost of labor. Salaries and benefits accounted for 92% of San Francisco cable car expenditures in FY 2019. Of the $12.32 cost per passenger trip that year, $11.34 was labor‐​related.
Cable cars are especially labor intensive because each one requires two SF Muni employees: one to start and stop the vehicle, and another to collect fares. And cable car staff are expensive to employ. One operator profiled recently in local media (who, as a courtesy, I will not name) has a base salary of more than $86,000 annually according to Transparent California. But his total compensation works out to almost $154,000 when overtime pay, employer‐​paid health and dental benefits, employer contributions to his defined benefit pension, and other benefits are included.
Although a cable car operator works 40 hours per week, an experienced transit employee is entitled to 15 paid holidays, 15 paid vacation days, and 13 paid sick days annually, as specified by city policies and the union's memorandum of understanding. The all‐​in cost of employing a cable car operator works out to around $70 per hour.
When cable cars are fully loaded with sixty passengers (seated and standing), they may generate enough revenue to compensate the two onboard employees as well as SF Muni's support staff. But ridership varies by time, day, and season. Break‐​even operation may be possible if service is only offered at peak times, but the City Charter requires Muni to run cable cars for the same hours it did in 1971, which was about 16–18 hours each day including weekends.
Riding a cable car is an integral part of the San Francisco tourist experience, but like many tourist amenities, the system should be able to operate profitably without taxpayer subsidies. Because the cable cars run near alternative bus lines, they are not essential for local commuters. Consequently, the city would be best served by privatizing the service and amending the charter to permit fewer hours of service.
A private operator offering service only at peak times, potentially at a higher price and with non‐​union labor, should be able to profitably offer a beloved tourist amenity while saving money for beleaguered city taxpayers.