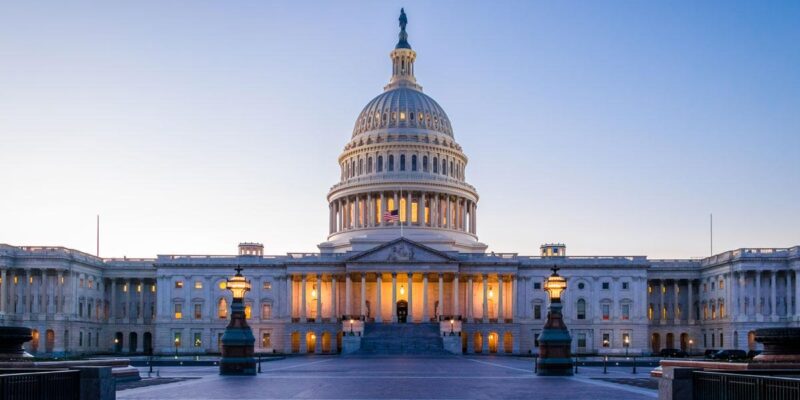 During Tuesday's State of the Union address, President Joe Biden uncorked a series of howlers that eventually spurred heckling from Republican members of Congress. Pundits raced to condemn the backlash to Biden "You saw real white trash on display," declared James Carville on MSNBC. Carville, who served as President Bill Clinton's hit man, claimed he had a "the equivalent of a Ph.D. in white trashology." When Paula Jones charged Clinton with sexual assault in 1994, Carville responded, "You drag $100 bills through trailer parks—there's no tellin' what you'll find."
The uproar over the State of the Union heckling illustrates how DC standards of decorum in DC can subvert any effort to put a leash on politicians.
Pundits were far more upset about the Republican pushback during the speech than about the eight-foot-high black metal fence that was speedily erected around the Capitol grounds before Biden's visit to the Hill. It was the third year in a row Congress was barricaded for a Biden appearance. When the fence (initially installed after the January 6, 2021 Capitol clash) was reerected last year, Rep. Eleanor Holmes Norton (D-DC), complained last year that the fencing "makes the United States look like a totalitarian regime trying to keep its own people out." The American Civil Liberties Union declared that Congress hiding behind a fence projects "the kind of message that heads of autocratic regimes send by cloistering themselves away from their populaces in armored fortresses." But Washington's Guardians of Decorum had no trouble with "window dressing" that prevents common folk from approaching the "Temple of Democracy" when sacred rites are occurring.
State of the Union addresses put presidents on a pedestal and good citizens are supposed to be in awe—or at least defer to the commander in chief. For one night, citizens are obliged to swallow his promises to solve all the nation's problems. But this prerogative provides an entitlement to delude the American people. What is good for Washington is not good for democracy. Deference has produced disaster after disaster.
In his 1996 State of the Union address, President Bill Clinton announced "the era of Big Government is over." In his State of the Union the following year (after he was reelected), Clinton opened the floodgates, calling for a "national crusade for education standards," creating a "citizen army" of one million volunteer tutors, urging federal subsidies for private health insurance, criminalizing any parent who crossed a state line allegedly to avoid paying child support, advocating a constitutional amendment for "victims' rights," and ramping up the war on gangs and the war on drugs—as well as expanding NATO.
In his 2002 State of the Union address, President George W. Bush revealed that Iraq, Iran, and North Korea were an "axis of evil." Bush put the nation on a path to a ruinous war from which the Middle East has still not recovered.
In his 2016 State of the Union address, President Barack Obama notified Congress that
"there are outdated regulations that need to be changed." He had been president for seven years at that point but he apparently considered all his prior time in the White House to be a "mulligan"—a golf swing that missed and can be politely disregarded.
In his 2019 State of the Union, President Donald Trump waved a rhetorical magic wand to proclaim that Americans "stay free" from "government coercion, domination, and control." (Plenty of folks were riled up that I criticized Trump's hokum in a Mises piece.)
Biden uncorked plenty of howlers in his speech on Tuesday. He also donned the mantle of therapist in chief—a role pioneered by President Bill "Feeling Your Pain" Clinton. Biden declared that Americans had lost their "pride" and "sense of self-worth." But thanks to Biden's endless decrees and interventions, people could respect themselves again
In his State of the Union address last year, Biden declared, "When dictators do not pay a price for their aggression, they keep moving." That's why the Founders enacted the Bill of Rights to put a leash on Washington. Law professor Jonathan Turley observed, "President Biden has arguably the worst record of losses in [federal court] the first two years of any recent presidential administration." And his list of planned power grabs in his SOTU signals he will "keep moving."
The standards for DC decorum in discussing foreign policy practically guarantee that presidential lies will receive a pass, regardless of how many people perish as a result of their perfidy. For instance, the establishment media was shamelessly craven when Bush conned America into the Iraq war. CNN chief Walter Isaacson explained: "Especially right after 9/11. . . . There was a real sense that you don't get that critical of a government that's leading us in war time." Jim Lehrer, the host of government-subsidized PBS's Newshour, justified kowtowing in 2004: "It would have been difficult to have had debates [about invading Iraq] . . . you'd have had to have gone against the grain." When journalists dug up the truth, editors sometimes ignored or buried their reports. Washington Post Pentagon correspondent Thomas Ricks complained that, in the lead-up to the US invasion of Iraq, "There was an attitude among editors: 'Look, we're going to war, why do we even worry about all this contrary stuff?'" New York Times White House correspondent Elisabeth Bumiller explained the press's conduct at a Bush press conference just before he invaded Iraq: "I think we were very deferential because . . . nobody wanted to get into an argument with the president at this very serious time." NBC news anchor Katie Couric stated that there was pressure from "the corporations who own where we work and from the government itself to really squash any kind of dissent or any kind of questioning" of the Iraq War.
Despite the Iraq debacle, the Washington establishment remained more concerned about offenses against decorum than about human rights atrocities. In December 2014, the Senate Intelligence Committee finally released a six-hundred-page summary of its report on the CIA torture regime. CIA abuses included death resulting from hypothermia, rape-like rectal feeding of detainees, compelling detainees to stand long periods on broken legs, and dozens of cases where innocent people were pointlessly brutalized. From the start, the program was protected by phalanxes of lying federal officials. A New Yorker commentary noted that "comparisons to Nazi and Communist tortures" were treated as "being some kind of wild violation of decorum." President Obama held a press conference just after the report came out, and just before leaving for a Hawaii vacation. Instead of asking him about the torture report and the White House role in seeking to suppress the evidence, White House reporters hollered out: "What is your New Year resolution?"
Actually, the most dangerous breach of decorum in American democracy nowadays is pervasive federal secrecy. Is President Biden recklessly dragging the US into war with Russia—or Iran—or China? Average Americans have no way of knowing because the feds are creating trillions of pages of new secrets each year, shrouding almost all the most controversial foreign policy decisions. Americans are not even entitled to know whether their government blew up the Nord Stream pipeline from Russia to Europe. Instead of self-government, the Washington elite offer a parody of democracy in which citizens are liable for any disasters their rulers secretly inflict on the world.
But back to the State of the Union. There is an easy fix to prevent future breaches of decorum by testy members of the opposition party. The president should begin his speech by taking the same oath to testify honestly that is routinely required of witnesses at congressional hearings. If a president makes a false statement in the State of the Union, he could then be prosecuted and face to up to five year in prison. The provision could be crafted to permit citizen lawsuits that the Justice Department could not stifle to shield presidential deceits.
Personally, I would find that much more satisfying than hollering at the president.