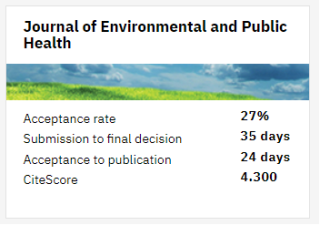 If you have published an article in a Wiley journal lately you may have noticed the Hindawi brand name shows up alongside Wiley at various stages of the process (at least, that is my recollection). You may have also noticed that Hindawi is a sketchy publisher, sometimes accused of predatory behavior.
From Retraction Watch (Nearly 20 Hindawi journals delisted from leading index amid concerns of papermill activity):
Nineteen journals from the open-access publisher Hindawi were removed from Clarivate's Web of Science Monday when the indexer refreshed its Master Journal List.
The delistings follow a disclosure by Wiley, which bought Hindawi in 2021, that the company suspended publishing special issues for three months because of "compromised articles." That lost the company $9 million in revenue.
Here are the stats from one delisted journal:
Submission to final decision in 35 days is too quick to give me any confidence that most articles was adequately reviewed. I can't find any economics journals on Hindawi's webpage but there are plenty of economics articles (with some goofy titles).
I typed the question in the blog post title into Google and this article came up first: Wiley Buys Open Access Publisher for $298 Million. Here is what the article says:
John Wiley has expanded its presence in the open access field with the acquisition of Hindawi, a London-based scientific research publisher of more than 200 peer-reviewed scientific, technical, and medical journals. Wiley paid $298 million for Hindawi which had 2020 revenue of $40 million.
In making the announcement of the acquisition, Wiley cited not only Hindawi's portfolio of journals but also its "highly efficient publishing platform" and its "low-cost infrastructure" as reasons for doing the deal. …
Wiley noted the critical role Hindawi, which was founded in 1997 and became a fully OA publisher in 2007, has played in advancing open access publishing, a model under which scholarly articles are made freely accessible to researchers with costs covered by publication and author fees rather than subscriptions.
So it seems like Wiley wanted to make some money and didn't much care if it made anyone wonder if the reputations of their legitimate journals would get soiled in the process. Wiley looked at the stats for the Journal of Environmental and Public Health and decided it was a good idea to buy it. 
I'd stay away from Hindawi just like I'd stay away from MDPI (Fast-growing open-access journals stripped of coveted impact factors): 
Clarivate initially did not name any of the delisted journals or provide specific reasons. But it confirmed to Science the identities of 19 Hindawi journals and two MDPI titles after reports circulated about their removals. The MDPI journals include the International Journal of Environmental Research and Public Health, which published about 17,000 articles last year. In 2022, it had a Web of Science journal impact factor of 4.614, in the top half of all journals in the field of public health.
Jeez, keep your eye on Wiley journals too.